Water-Cooled Type Auto Chiller Series
Feature
Precisely designed for customers' convenience by supplementing the defect of water-cooled system.
Reduced noise helps obtain the maximum productivity in the comfortable environment.
Excellent cooling efficiency displays the cooling effect improved by 10% vis-a-vis air-cooled system (in case the cooling water is good).
A full preparation was made for safe operation by detecting freeze and pressure overheating automatically in advance with various protection and safety devices in accordance with water-cooled type.
Designed for simple maintenance and manufactured for easy check of operating conditions.
현대이엔지칠러
Control Panel: *Optional by the orderer **For general sale
Distribution Diagram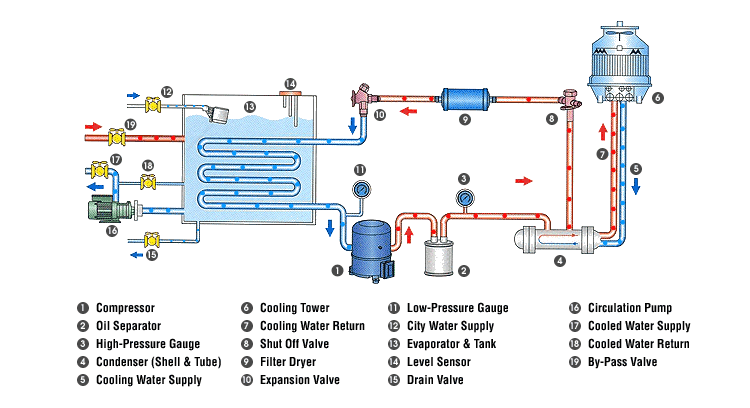 External View

Standard Specifications
Classification
Compressor
Capacity
Circulation
Pump
Capacity
Max.
Circulation
Rate
Tank
Volume
Cooling
Capacity
Cooling
Water
Flow Rate
Power
Supply
Total Electric Power
Dimensions
kW(HP)
kW(HP)
ℓ/m
ℓ
kal/hr
ℓ/m
V
kW/h
L(mm)
W(mm)
H(mm)
HD-00.5W
0.375(1/2)
0.09(0.12)
5~6
12.5
1400~1500
8
AC 1PH
220V Single
Phase
0.465
450
550
700
HD-01W
0.75(1)
0.35(0.45)
10~13
20
2800~3000
13
1.1
715
500
900
HD-02W
1.5(2)
0.69(0.92)
20~24
39
5600~6000
26
AC 3PH
220V
380V
440V
460V/50Hz
60Hz
2.19
850
550
1070
HD-03W
2.2(3)
0.69(0.92)
30~36
52
8400~9000
40
2.89
850
550
1070
HD-05W
3.75(5)
0.69(0.92)
50~60
100
14000~15000
70
4.44
1080
800
1150
HD-07.5W
5.5(7.5)
1.25(1.67)
70~80
130
21000~22500
100
6.75
1080
800
1150
HD-010W
7.5(10)
1.25(1.67)
100~120
150
28000~30000
130
8.75
1500
800
1150
HD-015W
11.25(15)
1.58(2.12)
150~180
240
42000~45000
190
13.98
1500
800
1150
HD-020W
15(20)
1.9(2.5)
200~220
300
56000~60000
250
16.9
1700
1000
1350
HD-030W
22.5(30)
3(4.0)
300~380
470
84000~90000
380
25.5
2400
1200
1500
HD-040W
30(40)
4(5.36)
400~440
600
112000~120000
510
34
2400
1200
1500
HD-050W
37.5(50)
5.5(7.5)
500~600
750
140000~150000
650
43
2400
1200
1600
These products may change without notice depending on technology development.
Special chiller with temperature deviation of ±0.1°C is also manufactured.
Besides the products described above, both special specifications production and customized production up to 400HP are available.
The criterion of the cooling capacity marked above is 60Hz, and when using 50Hz, you can apply 80% of the marked cooling capacity