Laser-Type Chiller Series
Feature
Adopted ultra-precision temperature control system (possible to control ᅀT±0.3°C~1°C). *0.1°C is optional.
Installed high-pressure power pump(3kg/cnf-7kg/cnf).
Acquired Utility Model patent(No. 121300/ No. 105768)for the first time in South Korea

Evaporator was manufactured with SUS#304, preventing the scale completely.
The products with the utility model patent provide the maximum satisfaction in cooling effect.
Scale can be prevented by plumbing the inlet and outlet of cold water with SUS(SUS@304)

While at work, alarm lamp and buzzer functional device are operated by self-prognosis.
현대이엔지칠러_영어
Control Panel: *Optional by the orderer **For general sale
Distribution Diagram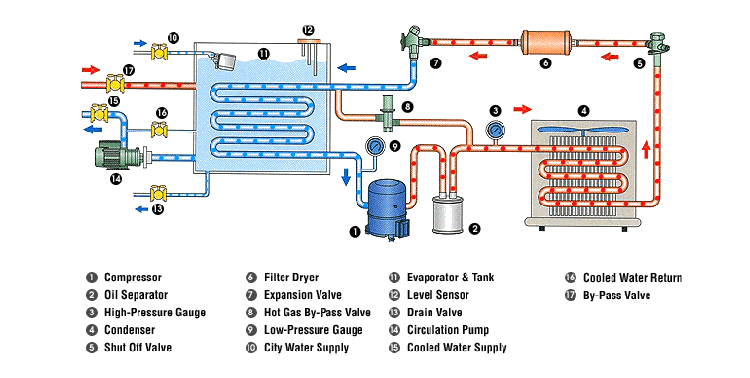 External View

Standard Specifications
Classification
Compressor
Capacity
Circulation
Pump
Capacity
Circulation
Rate
Max.
Pressure
Cooling
Capacity
Tank
Volume
Power
Supply
Dimensions
kW(HP)
kW(HP)
ℓ/min
kg/㎠
kal/hr
ℓ
V
L(mm)
W(mm)
H(mm)
HDL-00.5A
0.375(1/2)
0.35(0.47)
5
5
1400~1500
12.5
AC 1PH
220V Single
Phase
550
450
700
HDL-01A
0.75(1)
0.35(0.47)
10
4
2800~3000
20
734
500
900
HDL-02A
1.5(2)
0.75(1)
15
5
5600~6000
39
AC 3PH
220V
380V
440V
460V/50Hz
60Hz
800
700
1000
HDL-03A
2.2(3)
0.75(1)
20
4.5
8400~9000
52
900
750
1150
HDL-05A
3.75(5)
0.75(1)
30
4
14000~15000
100
1000
800
1200
HDL-07.5A
5.5(7.5)
1.58(2.1)
50
4
21000~22500
130
1270
870
1300
HDL-010A
7.5(10)
2.05(2.7)
60
5
28000~30000
150
1430
850
1400
HDL-015A
11.25(15)
2.3(3)
100
6
42000~45000
240
1800
950
1595
HDL-020A
15(20)
4(5.5)
150
6
56000~60000
300
2200
1050
1780
HDL-030A
22.5(30)
4(5.5)
200
6
84000~90000
470
2300
1050
1780
HDL-040A
30(40)
5.5(7.5)
270
7
112000~120000
600
2580
2000
1860
These products may change without notice depending on technology development.
Besides the products described above, products by special specifications are custom-made.
With single-phase electric specifications, small-size chiller (0.5HP~3HP) can be manufactured.
The criterion of the cooling capacity marked above is 60Hz, and when using 50Hz, you can apply 80% of the marked cooling capacity