Cooled & Heat Water Possibility
Feature
Essential to the field requiring high-precision chiller, such as laboratory et al.
Adopted One-Touch digital system for controlling both high and low temperature conveniently.
We minimized the installation space using a simplified circuit method, and this type of chiller has a molding effect by mobile use of cold and hot water.
Designed in centralized multi-functional discharge method, both low and high temperature can be used with one chiller.
현대이엔지칠러_영어
Control Panel: *Optional by the orderer **For general sale
Distribution Diagram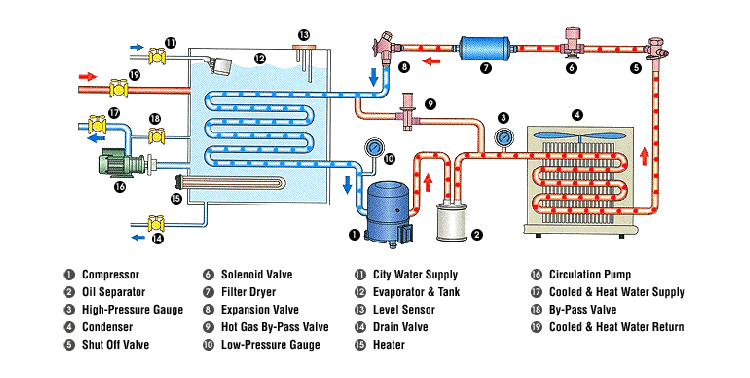 External View

Standard Specifications
Classification
Compressor
Capacity
Circulation
Pump
Capacity
Heater
Capacity
Tank
Volume
Temperature
Scope
Cooling
Capacity
Power
Supply
Dimensions
kW(HP)
kW(HP)
kW
ℓ
℃
kal/hr
V
L(mm)
W(mm)
H(mm)
HDA-01HC
0.75(1)
0.35(0.45)
2
20
+5℃~+90℃
2800~3000
AC 1PH
220V Single
Phase
734
500
900
HDA-02HC
1.5(2)
0.69(0.92)
3
39
5600~6000
AC 3PH
220V
380V
440V
460V/50Hz
60Hz
800
700
1000
HDA-03HC
2.2(3)
0.69(0.92)
4
52
8400~9000
900
750
1150
HDA-05HC
3.75(5)
0.69(0.92)
6
100
14000~15000
1000
800
1200
HDA-07.5HC
5.5(7.5)
1.25(1.67)
8
130
21000~22500
1270
870
1300
HDA-010HC
7.5(10)
1.25(1.67)
10
150
28000~30000
1430
850
1400
HDA-015HC
11.25(15)
1.58(2.12)
15
240
42000~45000
1800
950
1600
HDA-020HC
15(20)
1.9(2.5)
20
300
56000~60000
2200
1050
1780
HDA-030HC
22.5(30)
3(4)
30
470
84000~90000
2300
1050
1780
HDA-040HC
30(40)
4(5.36)
40
600
112000~120000
2500
1200
1860
These products may change without notice depending on technology development.
Besides the products described above, products by special specifications are custom-made.
Low temperature(-40℃)~High temperature(-300℃) is optional
Above Cooling-capacity is based on 60Hz, but about 80% indicated cooling-capacity is based on 50Hz