Immersion Chiller Series for Coolant
Feature
The compact design minimizes the installation space and the agitator is applied to increase the heat transfer efficiency of coolant.
The closing part of the evaporator coil and coolant is made of SUS304.
Intelligent controller, micro high efficiency condenser coil and EC fan maximize system stability and efficiency.
Condenser circulating air passage has a filter to minimize dust and foreign matter inflow.
현대이엔지칠러_영어
Control Panel: *Optional by the orderer **For general sale
Distribution Diagram

External View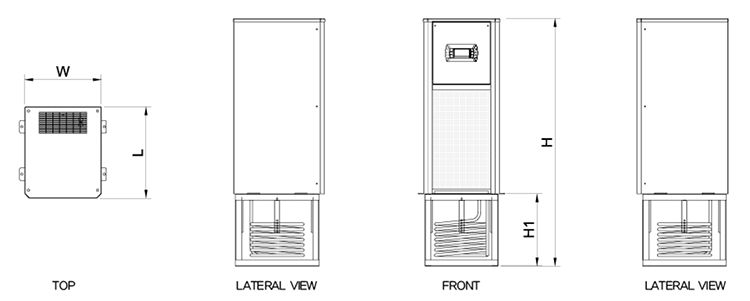 Standard Specifications
Classification
HD-0.5A-CE
HD-01A-CE
HD-1.5A-CE
HD-02A-CE
HD-03A-CE
Compressor Capacity
kW(HP)
0.37 (0.5)
0.75 (1.0)
1.12 (1.5)
1.5 (2.0)
2.25 (3.0)
Agitator Capacity
kW(HP)
0.12 (0.16)
Cooling Capacity
Kcal/h
60/50Hz
1.510 / 1.250
2,990 / 2.490
3.200 / 3.840
5.100 / 4.380
7.490 / 6.240
Coolant minimum hight
rnn
200
Coolant perforation dimensions
m
410 x 360
410 x 360
470 x430
520 x 480
570 x 530
Power Source
PH x V x Hz
1 상220V. 3상. 380V. 440V. 460V. 50/60Hz
Dimension
L (mm)
W (mm)
H (mm)
443 x 370 x 1027
443 x 370 x 1200
500 x 450 x 1323
550 x 510 x 1375
605 x 590 x 1530
This product is subject to change without prior notice due to technical development.
Ambient operating temperature is 5 to 45°C,temperature control range is 5 to 45°C